Auto Accident and Personal Injury Chiropractic At
Canning Chiropractic and Laser Pain Solutions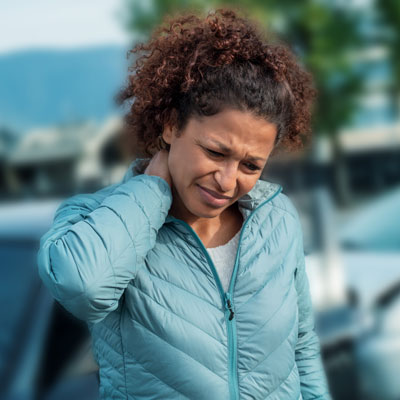 Car crashes are different from other common personal injury accidents because auto accidents typically result in extensive connective tissue damage. Other types of accidents frequently cause broken bones, which heal quicker than soft tissue injuries.
Because we can't "set" damaged ligaments the same way we can set broken bones, they continue to move, which can do additional damage and keep inflammation from diminishing. Your body will do its best to heal this damage on its own, but scar tissue can build up, interfering with the normal motion of the tissues. This can cause bigger problems down the road.
NEW PATIENTS »

Chiropractic is ideally suited to help after a car accident. We assess the injuries and create a care plan to facilitate healing by restoring proper alignment to the joints. In this way, we help the body heal in the proper position, which speeds up the healing process. When healing time is reduced, less scar tissue can form and inflammation is eased.
Our Approach
At Canning Chiropractic and Laser Pain Solutions, we focus on calming the inflammation first. Once this initial stage of healing is complete (or well underway), we turn our attention to increasing flexibility. We want your spine to be well-aligned with proper range of motion throughout before we work on restoring strength to the damaged areas.
Unlike medications such as pain relievers, muscle relaxants and anti-inflammatories, which just mask your symptoms, chiropractic care focuses on restoring proper alignment to help your body heal itself in the best way possible.
Each care plan is uniquely designed to address a patient's specific injuries. In a fairly typical accident, you can expect to receive care for about three months.
We Work With Insurance
The last thing anyone wants to worry about after being hurt in an accident is more bills.
We work with your auto insurance company so that you have no out-of-pocket expenses.
Start Today
Left untreated, soft tissue damage from a car accident can cause bigger problems one, five or even 10 years later. That's why it's important to get checked out as soon as possible after an accident. Contact us today to get started.
---
Auto Accident and Personal Injury Chiropractic Lawrenceville GA | (770) 513-1591